This is the website of Juliana Rew, science fiction author and publisher.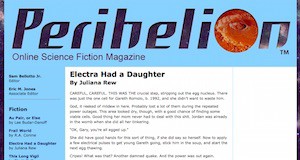 We'd all like to have a bit of android in our blood, right? But what would it really be like to cross the line? My short story, "Electra Had a Daughter" is now available (free!) at PerihelionSF.
The issue was mentioned by Locus Online. To see Lois Tilton's take on my story, see the review.