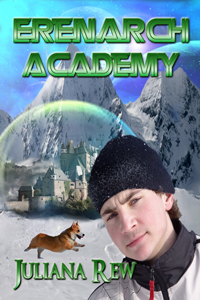 After 300 years, humanity has crept outward from Earth as far as the Sigma Draconis star system, popularly known as Dragon Stead. On the capital planet, young geniuses are groomed for leadership in "Erenarch Academy: Under the Dragon Banner."
But will their years of Academy training be enough? Will a cybernetic rebellion and interplanetary war pull them apart? And when an ancient intelligence awakens, will it change humanity's future forever?
My Y/A SF novella, "Erenarch Academy: Under the Dragon Banner" from World Castle Publishing is now available in hardcopy or eBook (Amazon).
Coming soon: Look for book 2 in the series, "Miranda of Daris," in press with World Castle.
Reviewers: Contact me if you would like to review "Erenarch Academy." I would be happy to provide a complimentary copy.
Free stories available
See "My Titles" page for other publications, including free stories.